As a designer, coming up with design ideas is part of my job. And I love conceptual work, don't get me wrong, but I also love when a client brings his/her own concept to the table. Especially for a logo, and especially for a small business owner, the client's input helps brand identity reflect the individual's identity.
This is exactly what I got when Angelica with Kiss My Soap, LLC contacted me. In her email she described what she had in mind: "Simple, beautiful African American woman... blowing an obvious kiss with the kisses floating off in soap bubbles." I thought that was great! And even better, as we discussed details like angles and expressions, she mentioned that she used to draw! Angelica offered to create a rough sketch of what she envisioned. Two things I love about getting sketches:
It really helps cut down on miscommunication during the drafting process, and
You get an AWESOME before and after picture!
This is what she sent me:
I could definitely work with that! So I set about making my own drawing. Of course, instead of pen and paper I used my handy Wacom Bamboo tablet and pen with Adobe Illustrator CC. I always like to start my logo illustrations in Illustrator so they're in vector format right off the bat, rather than having to convert them later on. When all was said and drawn (haha), this is what I'd made:
After getting Angelica's approval, it was time to set about really bringing this lady to life by adding tone and dimension. This is usually my favorite part because it's pretty much like a coloring sheet for grown-ups. For this project, I broke out one of my most-loved design tools: Grutbrushes. For those of you who don't know, Grutbrushes are AMAZING. They're pressure sensitive, speed sensitive, direction sensitive Photoshop brushes that give a realistic look of whatever medium you choose, whether oil, ink, or as in this case, watercolor. If you dabble in design and don't have these in your arsenal already, get on that. Like, today. See for yourself:
The next step was a small one that made a big difference: changing the stroke (outline) effects and colors. Doing this allowed for a more natural look, rather than the harsh black lines pictured above. Altogether, changing the strokes serves to make the image look a little less computer-generated. For this, I used Adobe Illustrator CC brush styles Charcoal--Feather and Dry Brush 5.
Voila! A completed illustration. All that remained at this point was to draft with some different fonts, elements, and positions. Unfortunately I made the mistake of vectorizing the colored layers before I started drafting, the result of which was that the working file was HUGE and Illustrator crashed mid-drafting. I lost just about all the work I had done. Hands up for screenshots, though! My Mac's screenshot function saved the day. I was able to send Angelica her drafts.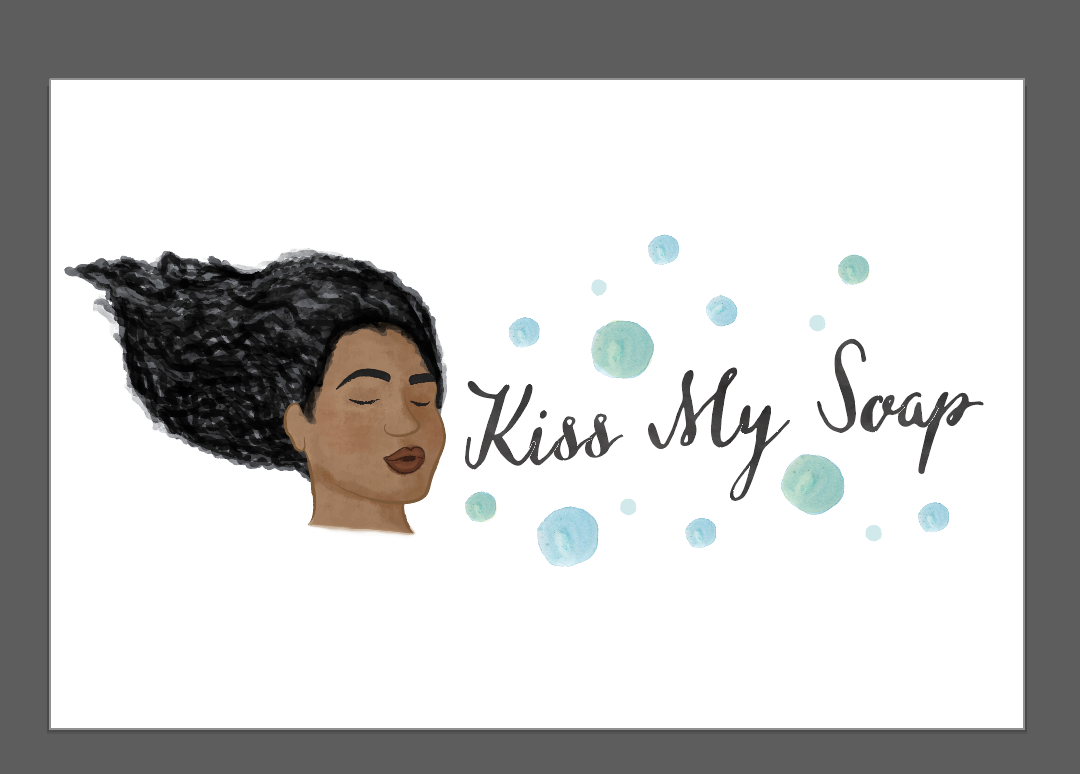 Even though the quality wasn't great and everything had a grey border around it, she was able to see each one and pick out the things that she liked. In the end, we combined different elements from two of the drafts and arrived at the final logo!
I don't know about you, but I think it's fantastic! And the best part is that it was 100% a collaborative effort. Being chosen to make this logo a reality for Angelica was a pleasure, and I wish her all the best with her future business endeavors!
To contact Angelica about purchasing some of her lovely handmade soaps, visit her facebook page.